Vehicle maintenance which has served in system Dispečer for vehicle service, repairs and control evidence, has now new "outfit". From previous vehicle maintenance it has changed to Service agenda with wider range of functionalities.
New service agenda is placed in Agenda.
On the top row in Service agenda there is filter which displays service agenda for one vehicle/vehicle group/all vehicles/all semi-trailers.

After filter using can user see all service events in table. Beside the information arrangement and filter, system also offers new possibilities of using Service agenda. User can choose among three event types:
Vehicle maintenance – suitable for regular events of vehicle care (oil changing, first-aid kit,…)
Drive out – situations when is necessary to call assistance service
Service – unexpected event relating to damage/breakdown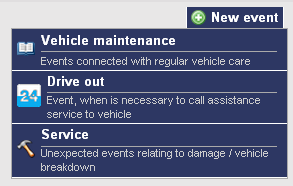 For more details about Service agenda or in case of questions do not hesitate to contact us This email address is being protected from spambots. You need JavaScript enabled to view it.